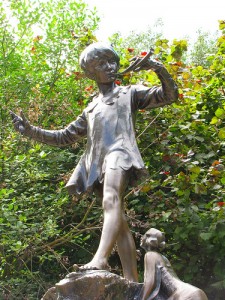 In his September 9th article, "JM Barrie and the Gardens of Imagination," Paul Millward took readers on a literary journey to London's idyllic Kensington Gardens, where JM Barrie first conceived of his much loved character, Peter Pan.  A fond recollection of childhood memories, Peter Pan may have even more to offer adults.  Millward's article piqued our interest in Barrie's creation, and what we could learn from the boy who refused to grow up.  Join us as we talk with Millward, a writer whose quest for spirituality has taken him from Never Land to Venice, Italy.  We couldn't wait to hear more about his fascination with Peter Pan and how we can experience the magic for ourselves.
Literary Traveler:  When was your first exposure to Peter Pan?  Were you a fan as a child, or did you become more interested in the character as an adult?
Paul Millward:  It feels like Peter Pan was always there. The story and character are so deeply embedded in our culture that I can't remember a time when I wasn't aware of it. But I didn't have a particularly strong attraction to it as a child. The fact that Peter could fly and went on adventures was definitely appealing to me, but from a literary point of view, I was more captivated by C.S. Lewis and his Narnia stories, and also with The Wind in the Willows.  It's since becoming an adult that the story has become increasingly interesting to me – maybe it speaks to adults more than children. It's only since I've become more spiritually enlightened that I realized that Barrie is actually saying something of importance – that our reality is shaped by what we believe. In other words, we create our own reality and we create that reality through our imagination. I think Barrie understood that really well, and although it's expressed in the book in a simplistic way meant to be read by children, the book speaks a deep truth – it's not just escapist fantasy.
LT:  Besides the statue of Peter Pan, what other attractions should visitors to Kensington Gardens make it a point to check out?
PM:  These days when I'm in London I love to just wander around Kensington Gardens aimlessly, but there are actually some major attractions in the park for people to enjoy. I would say the biggest attraction must be Kensington Palace which lies in the grounds of the gardens. This is a prime London attraction in its own right, so I would recommend a look around the Palace for anyone visiting Kensington Gardens. It's probably most famous for being the home of Princess Diana but it's got a long history, it was the birthplace of Queen Victoria and she spent her childhood there. And don't miss the Orangery where you can have afternoon tea, it's a charming spot. Then there is the Albert Memorial on the far side of the gardens opposite the Royal Albert Hall. It's one of London's great Victorian monuments built by Queen Victoria to commemorate her husband Prince Albert. For art lovers I'd recommend a look at the Serpentine Gallery, another popular London attraction which exhibits works of art by contemporary artists. But one of my personal favorite spots in the park is the Italian Gardens, a wonderful concoction of fountains, pools and statues – a joyful place to be on a nice day.
LT:  Barrie's personal life is much debated and the events and circumstances of his life and personal relationships inevitably impacted his writing.  How do you suppose this can be seen in Peter Pan?
PM:  I think it's sometimes easy to read too much of a writer's real life into their fiction but with Barrie it's just irresistible. The death of his older brother David, when Barrie was a young child, something his mother never got over, led him to try and act as a sort of substitute for his brother. Apparently Barrie would even dress as his dead brother and copy his mannerisms in order to try and alleviate his mother's grief. Then there is the story of how his mother said that by dying in childhood, David would remain forever a boy. The parallels between these events and the Peter Pan character are just too striking to be ignored. Apparently Barrie stopped growing at the same age his brother died – he stayed just five foot the rest of his life. It's also been suggested that Barrie didn't develop sexually, that he remained asexual all his life, and that his marriage to Mary Ansell wasn't consummated. How much of this is true I'm not sure, but it's fascinating to speculate on how these factors may have fed into Peter Pan. One of the most intriguing aspects of Peter Pan in the book is his strange formless state.  Peter is constantly evolving but never actually becomes anything, he stays undefined and androgynous. It's easy to see Peter Pan as a projection of Barrie's own undeveloped condition, both physical and emotional.
LT:  Barrie's character has been reinvented throughout the years. Do you have a favorite manifestation – second, of course, to Barrie's original?
PM:  I really love Steven Spielberg's film Hook.  It is an absolute joy. I don't understand why it's not considered a classic. It received such a panning from the critics when it was released that I didn't even bother to go and see it at the cinema. Then when I saw it on TV I couldn't understand what was supposed to be so wrong with the film and regretted not seeing it on the big screen. But then I have always loved Spielberg, ever since I first saw Close Encounters, which is still one of my favorite films of all time. He has a genius for evoking childhood and is the ideal person to do a film version of Peter Pan. I love the spirit of the film – it's a celebration of positive thinking.
LT:  What lessons can adults learn from Peter Pan?
PM:  Lighten up! Enjoy your life and don't take it too seriously. It's so easy to get bogged down in the day to day practicalities of life and forget the pure joy of life. Peter Pan helps adults to see that life should be an adventure and not a chore. He reminds us of just how much we have lost by growing up. Children live such rich lives because everything is still open to them – everything is possible in the child's world, nothing is closed down. Adults lead such boring, predictable lives. Peter Pan reminds us that life can be magical and exciting if only we could let go of all our striving to achieve worldly success and social status. We can never be more than what we already are and all our attempts to better ourselves do not lead to happiness. Peter Pan instinctively knows this, which is why he hates adults and refuses to grow up.  He knows the real joy of life lies in the freedom of the imagination.
LT: You recently published a book, Finding God in the Celestial City. Can you tell us and our readers a little bit about the book and the experiences that inspired you to write it?
PM:  Yes, it's about Venice and the extraordinary effect the city had on me the first time I visited it. I had a series of spiritual experiences there which completely changed my life. I was quite an inexperienced traveler at the time and I had never been to Italy before. The beauty of Venice totally overwhelmed me, and then when I started exploring the churches to find the works of art I wanted to see— I'm a great art lover, particularly the Italian Renaissance) something remarkable started happening— the scenes depicted in the paintings became a living reality to me. They reached into my soul, quite involuntarily. I suddenly understood what these great artists like Titian and Tintoretto were really trying to say and it totally blew me away. But the most significant moment was on San Michelle Island where I entered a very remarkable spiritual condition in which I realized that the world was in reality very different to our normal perception of it – that it was actually a place of profound peace and harmony, overflowing with love. You can never quite be the same after you have experienced something like that!
LT: It seems like an amazing and profound experience. Thank you for sharing it with our readers, as well as taking us deeper into the fascinating world of Peter Pan.  It appears that Barrie's character still has a lot to teach us.  After all, as he wrote, "all the world is made of faith, and trust, and pixie dust."