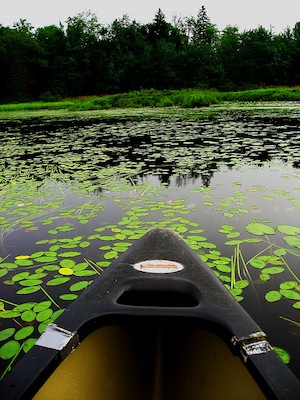 Like my fellow Literary Traveler blogger Ashley, I've been on a rather tight budget this summer.  This does not jive well with my near-constant need to get out of the city, to always be going, going, gone.  Fortunately, I've found a way around my limitations: camping.
I'm no stranger to roughing it–I did once complete several weeks of Outward Bound–but I hadn't done a lot of camping in the past couple of years, so my recent trip to Maine was something of a shock.  Camping was dirtier, messier, scarier, and harder than I remembered.  But also so much more fun.
And Maine is the perfect place to get away from it all.  From the mountains in the West to the island-riddled coast in the East, the entire state is filled with incredible views, pristine lakes, remote villages, and all the rural charm you could ever want.  We stayed at the Augusta West Kampground on Annabessacook Lake, an oddly-shaped body of water, delightfully rich in water lilies, located somewhere in the middle of Maine.  Our first afternoon was spent on the water, canoeing from island to minuscule island, poking through the debris left behind by former visitors.  I felt like an anthropologist, uncovering the remains of a forgotten culture–though in truth I discovered nothing more exciting than charred fire pits and empty beer cans.
On the second day–and our final day of the weekend getaway–we drove out to New Hampshire and climbed Mount Pine.  The White Mountain National Forest is an amazing place for both experts and amateur hikers.  Though I probably fall into the later category, I felt an absurd sense of pride as we reached the summit, just moments before the fog rolled in.  I watched as the thick, sullen clouds descended over the peaks, shrouding them–and us–from view.
Fortunately for me, my camping days are not over yet.  This week, I'm dragging my boyfriend out to Western Massachusetts, where my younger sister goes to school.  I'm looking forward to several days of hiking, hot dogs, beer, bonfires, and maybe some early-fall swimming.  Stay tuned for details.