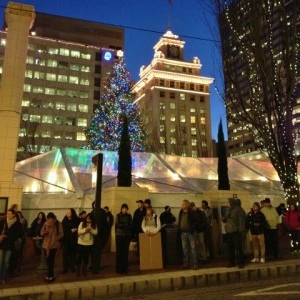 If you should find yourself in Portland, Oregon, or the Pacific Northwest, next holiday season, you may want to consider dropping in on one of the most iconic beer festivals the city has to offer. The Holiday Ale Festival, the only beer fest brave enough to set up outdoors in December, has become a Portland winter tradition.
I was lucky enough to be in Portland to attend this year's 18th Annual event, have a chat with organizer Preston Weesner, and test out some of the 50+ local seasonal brews offered. And I was not disappointed. The festival stakes its claim in Pioneer Square downtown, maxing out two tent rental companies, according to Weesner, installing 15 heating units and even gutters for the rain (critical in a place where rain falls pretty consistently during the winter months.)
"We essentially set up a small city in three days, have the festival for five, and tear it down, leaving no trace that we were ever there in the following 24 hours," said Weesner.
It was shockingly comfortable for an outdoor venue. The ambient lighting and wafting aromas of roasted nuts blended with the sounds of laughter and cheers from bundled up strangers-turned-familiar faces to create a cozy and warm feeling for which December winds were no match. The dozens of ales tasted and tested that day may have helped too.
Ranging from spiced ales to stouts and porters, ciders and imperial brews, this festival offered a mind-blowing variety, but certainly was not the place for the faint of heart (i.e. light beer drinkers). With names like "You'll shoot yer eye out kid," "PantyHose," and "Yo Baba Gaba," to name a minuscule sampling, picking out which beers to try and finding them in the three levels of festivity was almost as fun as actually tasting them.
When asked about the imaginative names and intricate stories behind the ales, Weesner, who writes the beer descriptions for Cascade Brewery, admits that some are very creative, but stresses the importance of telling what's in the brew.
"My descriptions may not be as elegant," says Weesner, "but they tell what it tastes like. That's more important."
As a beer fan, I have to agree, although I do love a good story behind the name. We literary travelers are always looking for deeper meaning, aren't we?
The thing that makes this festival so unique, besides the fact that it is the only one insane enough to set up outside in the middle of winter, is the fact that most of the brews aren't available for sale. Many of them are aged with the finesse a fine wine would receive and can't be found in any bars or stores. It's a good dress rehearsal for beers that breweries are considering releasing and a good draw for the beer nerd who has tried everything out there.
"I'm a beer geek, always have been," confirms Weesner. "I'm trying to create the best beer event that I would ever want to go to."
The downside for Weesner is that, with all the hard work he puts in, he doesn't get to take part in the fun of the Festival. Instead, he must enjoy vicariously through the guests and their good times.
In a place like Portland, a place making a real name for itself on the food and beer circuit, a place of many festivals, a place that has often been referred to as "Beervana," it takes a little something special to stand out among the crowd. The Holiday Ale Fest averages 17,000 attendees each year, and based on my Saturday visit, did not look as if it would fall short in the 2013 season. And while natives comprise most of the Festival's attendance, Weesner tells me that a solid 26% of ticket purchasers come from outside of the Portland Metro area, stretching all across the country.
"Many people travel to this because there's nothing like it where they live," said Weesner, "They'll literally book their tickets and make a week of it — a beer-cation."
Always looking for an excuse to get away, this works for us! And with more than 70 breweries in the Portland Metro area, this is a beer-drinker's haven worth a visit at any time of year.
Find out about next year's Holiday Ale Festival at holidayalefest.com