The holidays are behind us, and most of us are finally recuperated from the binge-eating extravaganza that can often be a more exhaustive sporting event than the Winter Olympics. Now, safely in the New Year, leftovers are passing their expiration dates, and as such, significantly lowering the chances of us dipping into them for a midnight snack. While we try to stick to resolutions of gym memberships and clean eating, we fall asleep at night dreaming of the pumpkin pies and cheesecakes of holidays past.
So, fittingly, as you up the incline on the treadmill and race into 2014, enjoy a tasty snack that you may have missed amid the hubbub of the holidays — our Food Issue! After all, reading about food doesn't break any resolutions, right?
ARTICLE:
Southern Comfort: A Poet's Biography of Antarctic Cuisine by Jessica Monk
Jess caught up with Antarctic poet and accidental food writer Jason Anthony at the Boston Book Festival and chatted with him about his latest work Hoosh: Roast Penguin, Scurvy Day, and Other Stories of Antarctic Cuisine. Now stateside, he shares historical anecdotes about the palatable oddities of Antarctic cuisine, how to spice up the culinary monotony at the bottom of the globe, and reflects on some pretty beautiful spaces with some equally beautiful words from his writing.
The greenhouse at McMurdo, where fresh vegetables are grown like living gemstones, is described in Hoosh as a verdant Eden where couples go to talk and kiss. Fresh vegetables are so prized down south that they have a nickname – "freshies" – that sounds like slang for an illegal drug. Whatever culinary rarities that can be begged, borrowed, or stolen are sought through swaps, trades and underground railroads of supply. Read more.
BOOKS:
In the Kitchen with Literary Traveler: 7 Cookbooks Inspired by Literature by Amanda Festa
Amanda explores the connection between food and literature with a list of cookbooks inspired by the culinary styling of literary favorites. From Southern fare inspired by True Blood (minus the human heart souffle, for which we are grateful) to Renaissance delicacies from the days of Shakespeare, there is something for every taste (literary and otherwise!). Highlights include luncheon with the eponymous girl detective, a dinner party with the original Austenian bad boy, and a Game of Thrones cookbook with the seal of approval from George R.R. Martin himself.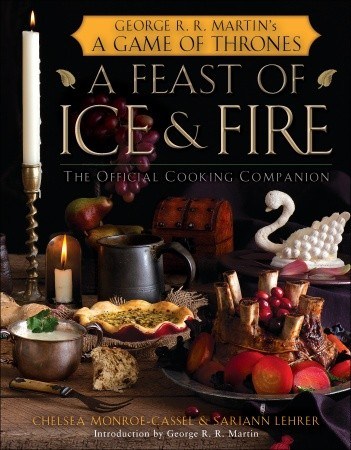 I'm not going to mince words here (although I am better at mincing words than I am at mincing anything edible), cookbooks have taken on a life of their own in recent years. No longer are they simply catalogs of recipes, organized rationally by time of day or dietary preference. Instead, they are literature in their own right, peppered with anecdotes, introductions, and sometimes characters. Read more.
TRAVEL:
A Rare Vintage: A Taste of Long Island Wine Country in 2013 by Jessica Monk
Planning a wine tour but want to avoid the heavily populated vineyards of Napa and the like? Or perhaps you want a wine experience a bit closer to home. If that home is the East Coast, we have just the thing. Go off the beaten vineyard path with a trip to the North Fork of Long Island, where farm-to-table restaurants and award-winning wineries make it the perfect place for a long vino-soaked weekend. We were so intrigued by the offerings of this local destination that we had to experience it for ourselves, and you should too!
Every vineyard seems to be guided by a different ethos. From chatting to locals and reading up on the growing reputation of these wines, we got the impression that now is the time to visit — when the stories of struggle and success are fresh in the memories of growers who staked out their territory in this pioneer region just decades ago. Read more.
FROM THE BLOG:
Have a Very Beery Christmas: Portland's Annual Holiday Ale Fest by Antoinette Weil
Antoinette headed out in Portland, Oregon to see what all the fuss around their annual Holiday Ale Festival was about — turns out the hype is well deserved. She enjoyed some frosty beverages under heated tents in an even frostier Portland and spoke with the event organizer Preston Weezer about the outdoor venue, the massive attendance, and of course, the beer.
The ambient lighting and wafting aromas of roasted nuts blended with the sounds of laughter and cheers from bundled up strangers-turned-familiar faces to create a cozy and warm feeling for which December winds were no match. Read more.
 TOURS:
Italy's First National Cookbook: From Farm to Table in Romagna
We are huge fans of Scolastica's literary tours of Italy. From Dante's Inferno to Boccaccio's Decameron, the tours provide a perfect way to experience Italy through the classics. Jessica recently spoke with Scolastica founder, Kyle Hall, about his love of literature, his mission for Scolastica to be more than the average group travel experience, and his latest endeavor — a cookbook tour! Pellegrino Artusi's 19th century work Science in the Kitchen and the Art of Eating Well, to be exact.  Read Jess' interview with Kyle and check out Scolastica Tours for more on all of their travel offerings.
To offer a deeper and more vivid introduction to Italian life, Kyle began to develop tours based around foundational Italian texts… Kyle is particularly excited to talk about the cookbook tour as it's an idea that was born spontaneously just 2 months ago out of a trip to the Romagna region to investigate extending the Dante tour there. Read more.
*
Let us know what you thought of our Food Issue in the comments below, or tweet us using #LiteraryFood