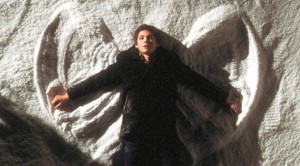 The movie adaptation of Stephen Chbosky's well-loved 1999 novel, The Perks of Being a Wallflower, tries really hard, but doesn't really succeed. Interestingly enough, Chbosky wrote and directed Perks himself, which could have resulted in a perfect adaptation, but which actually seemed to contribute to some of the move's shortcomings. The story, as you probably know, is about the of the trials and tribulations of Charlie, an awkward adolescent boy, the very epitome of the shy, intelligent teen who can't get out of his own head, who feels like he doesn't belong.
The movie opens with his entry into high school, where he's awash in an unforgiving and harsh landscape. Logan Lerman, the actor who plays Charlie, is far too good looking to be cast as a misfit, and his attempts at looking shy come across as emotionless and blank. His smile is too perfect to find the bullying he endures believable. Allusions to his troubling past (his best friend's suicide, the death of his beloved Aunt Helen and a possible mental illness) are made throughout the movie, but due time is not given to his past, so Charlie's current state of confusion and sadness is hard to empathize with or fully understand. Mostly by accident, Charlie is adopted by the other kids at school who don't "fit in," including the odd stepbrother-stepsister duo of Patrick (played by the dynamic Ezra Miller) and Sam (played by the charming Emma Watson). Patrick and Sam welcome Charlie into a world where he feels accepted, safe and loved. Things begin to look up for him—he learns how to eat a weed brownie, he goes to some parties, he exchanges Christmas gifts, and yes, he falls in love with Sam. His naïveté and earnestness is endearing, and, at times, a bit painful to watch—perhaps, in part, because the moments in which these things materialize remind us of our own adolescence.
Ezra Miller, with his gorgeous, sculpted cheekbones steals the show as the openly gay Patrick, who puts on a mean rendition of Rocky Horror Picture Show, a moment well worth watching. A cameo from Judd Aptow's go-to, Paul Rudd, as the Charlie's English teacher (you know, the one who "believes in him"), doesn't carry the depth it should; instead, the character ends up just another corduroy-wearing-To-Kill-A-Mockingbird-reading English teacher. And while certain elements are cliché, the soundtrack is very well done. Featuring David Bowie's Heroes and teen dream classics by Sonic Youth and The Samples, the sound track helps move the movie along, but still falls somewhat short of the mark.
As much as we want to care about Charlie, the reasons for his issues are left largely untouched, and addressed only through snapshots and brief flashbacks. As we watch him gain self-confidence, secure a girlfriend (even if he's still in love with Sam) we find ourselves wondering, Does this kid really have it that bad? His family, (while maybe ineffectual and under involved) seem to truly care about him, and he doesn't struggle with intellectual affairs. But as the movie comes to a close, and we watch Charlie's life start to unravel, his problems seems to be somewhere far off.
Emma Watson does her darndest with the role of the bubbly, but somewhat lost, Sam, and the connection between Charlie and her is one of the more believable relationships Perks has to offer. Ultimately, Perks the movie attempts to make us feel something we can't: a connection to the emotionally and philosophically advanced psyche of a young man. It was a heroic try, but the movie, unlike the novel, is easy to dismiss—something like closing the lid on a shoebox full of yearbooks and graduation tassels.