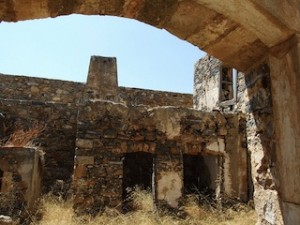 There are many places in the world that stand testimony to the suffering of previous generations.  From the gates of Auschwitz to the  Vietnam memorial, we remember those who we have lost through the objects that remain.  These things serve to remind us of the harsh reality of human suffering — and the courage that impels us all toward survival, throughout it all.
The island of Spinalonga is one such place.  Though not quite so famous as the aforementioned examples, Spinalonga, located off the coast of Crete, is seeped in history.  The very soil, and the ruins that still stand upon it, tell the story of the lives of all its exiled inhabitants, sent to live on Spinalonga for the crime of contracting leprosy.
In our newest feature article, write Inka Piegsa-Quischotte visits the tiny island that once housed a colony of lepers.  She walks through the remains, imagining what life must have been like for the sick sent to live out their days far from society.  Using Victoria Hislop's novel The Island as her literary guide, Piegsa-Quischotte explores what is left of the town on Spinalonga, which she renames the "island of defiance" for the many acts of courage it has seen.
Join us as we travel to Greece with Piegsa-Quischotte and Hislop in our piece The Defiant Spirit of Spinalonga, an Island of Exiles.  Take a moment to imagine what the world must have looked like through the eyes of the ill, what trials they must have faced, what bravery they must have shown.  Leave behind the comfort of your living room for a moment and immerse yourself in the ruins of Spinalonga — an island forgotten by many, but remembered in writing.