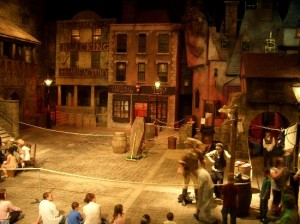 Everyone knows the Internet is the best place to find reliably accurate statistics and hard facts. No? Well, do me a favor and suspend your disbelief in that last sentence, at least until my 500 words are up.
According to the, ahem, Internet, over 70% of the American populace has visited Disney World and its affiliated attractions at least once in their lives.  That makes a pilgrimage to metropolitan Orlando as American as apple pie, NASCAR or a tenuous grasp of world geography.
Now, you may or may not be saying to yourself, "70%! That seems so low! What is the rest of America doing with their precious vacation time? Exploring the natural beauty of one of our world-class national parks? Comparing the food at T.G.I. Friday's in Times Square to the one at the mall near their house?"
Wrong. The remaining 30% are the hip insiders who know that when it comes to theme parks, one with a few quirks and lots of heart will always beat the sprawling, vaguely imperial nature of Walt Disney's brainchild.  So, on that note, here's a list of some of those "underground" theme parks to shake up your family's tri-annual trips to central Florida.
The House on the Rock – Iowa County, Wisconsin: While not a "theme park" in the traditional sense, this one of a kind architectural wonder is treat for fans of whimsy and kitsch. The House itself rests on a 60-foot tower of rock and resembles a modernist's fever dream. Its interior is an extensive complex of themed rooms and corridors. There's a nautical room, a Christmas room, a room containing an entire automated symphony orchestra and even one that resembles a 1950s era America even Norman Rockwell would find too sanitized. Home to both the "world's largest indoor carousel" and a massive collection of dollhouses, The House on the Rock is sure to provide ample, if somewhat over-stimulating fun for the whole family.
Grūtas Park – Vilnius, Lithuania: For those families out there with a macabre sensibility and ambition to spare, this tribute to Soviet brutality is a trendy pick. What it lacks in rides and traditional theme park fare, it makes up in meticulously recreated Gulag prison camps and something called "The Terror Sphere." The park's core consists of 86 statues; each dedicated to a famous Communist or political dissident whose life's work shaped the story of Soviet occupation. Fun fact: this is the only attraction on the list that has won the Nobel Peace Prize, which it did in 2001. Once you've had your fill of staring unflinchingly into the faces of totalitarianism, the park also offers restaurants, playgrounds and even a small zoo. While Grūtas Park may seem a bit stern or melancholy for a family vacation, keep in mind that the next time little Billy thinks about refusing to do his chores, he'll have the stark, indelible image of that Gulag in his head to send him on his way.
Dickens World – Kent, England: Sure to delight the English majors out there, this recently opened theme park is dedicated entirely to the life and work of Charles Dickens. Complete with a "Great Expectations" log flume and the haunted house of Ebenezer Scrooge, Dickens World promises an immersive trip to Victorian London. How immersive? Cleverly hidden "smell pots" that reek of rotten cabbage and animal parts are a masterstroke.  There is even a hi-definition cinema show based on Dickens' final completed novel, Our Mutual Friend, because you haven't seen urban squalor and class struggle until you've seen it in 3-D! Once you've had your pocket picked by the Artful Dodger in the impressively rendered central square, head over to the themed restaurant for a room temperature beer and some figgy pudding (I know, I'm not sure either). Word to the wise: if you let little Billy into the colorful and colorfully named "Fagin's Den" play area, it could take weeks to wash that Cockney street urchin accent out of his mouth.
BONUS! – The still-in-development "Napoleon's Bivouac" theme park – Paris, France: Kids today. You know, I bet they don't even know that Napoleon wasn't even short. In fact, he was about 5'7": quite average for his era. Luckily, a group of French venture capitalists are out to remedy this sort of ignorance to the greatest Frenchman of them all. In early 2014, ground will be broken in Montereau, France on a project that promises to bring the "little" general's exploits to vivid life. Early blueprints seem to divide the grounds into the different episodes of his life. Visitors will begin and end their Napoleonic journey on two islands. First, Corsica, where they'll witness the humble beginnings of the future Emperor of Europe and finally, Saint Helena, almost 1,200 miles off the Atlantic coast of Africa where the grizzled old general died in exile. Though traditional rides and rollercoasters are a given, the park's designers have hinted that the big attraction will be elaborately choreographed battle reenactments complete with gunfire, pyrotechnics and a cast of hundreds. So, come 2014, wear your bicorne hat at a jaunty angle and meet me in Montereau! Euro Disney, eat your heart out!