Who isn't really into a great character from literature? Who doesn't remember falling in love (probably for the first time) with the protagonist of a favorite book. Some of us actually prefer the secondary characters, and that's OK too. What we have in common is this: a genuine attraction to spell-binding humor and good ol' fashioned adventuring. So, which literary figure do you want to go out with this Valentine's Day?
Amanda:
I am a fan of cynical, emotionally unavailable men who enjoy the company of terrible drivers, so my dream date would be with Nick Carraway from The Great Gatsby.
I would first meet Nick and Gatsby during happy hour at the local speakeasy when Gatsby sends me over a drink and then disappears behind a potted plant as I come over to thank him.  Since I am not a fan of showy, over-the-top guys who own too many shirts, I would immediately avert my attention to his bored looking wing man, who is nursing his drink and yawning over a copy of The Wall Street Journal.  His lack of interest will keep me invested, even after he criticizes my shoes.
We skip dinner and he takes me to a party conveniently located next door to his own house.  When I protest he uses some line about how his ex-girlfriend claimed large parties were more intimate. Did you know she was also a professional golfer? When I am finally sick of hearing about how he is totally over his ex, I start hitting the hooch pretty hard. His narcissism becomes more bearable after a couple cocktails.  After the fourth glass of champagne he tells me about this beautiful green light across the bay that can be seen perfectly from his bedroom window.  I'm no beautiful little fool, so I politely decline and he mumbles something under his breath about my driving. Low blow, buddy.  Call me?
Antoinette:
My perfect fictional valentine? That stud from District 12, Peeta Mellark.
I thought about picking Gale, but I figured he'd just be angry all night and probably make me pay the tab. The whole dark and mysterious thing gets old when it becomes dark and brooding–constantly.
Peeta is the one for me. His sandy-golden locks, those sexy survival skills, and the cakes…He's definitely a keeper. Our date would probably start with one of those adorable couples cooking sessions, Peeta teaching me all about baking and decorating. We'd then stroll arm in arm down the streets of District 12, handing out our freshly made Love-Cakes to all the townspeople. Since he's kind of a big deal, I'm pretty sure my hunk would pull some utterly romantic feat like hiring one of the Capitol's air crafts for a scenic sunset flight over the districts. …sigh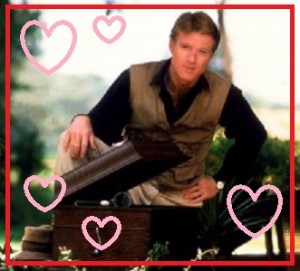 Carly:
For Valentine's Day this year, I'd like to go out with The Honorable Denys Finch Hatton, from Isak Dinesen's memoir, or—probably more like—the film version of Out of Africa, as played by Robert Redford. This quiet, solid man, so mysterious at first, would quickly open up like a violet, sharing stories of his adventures…sincerely inviting me to join him the next time around. Top it off with a nighttime flight to the nearest (literal) watering hole, where we sink into a desperate haze of Mozart, cigarette smoke, fireflies, and inevitable heartbreak.
Francis:
Love is blind and beauty is unattainable. Because of that I would choose Estella as my literary valentine as she represents for me all that is good and bad about love. As I continually strive to be a gentleman, seeking my fortune, I can't help falling for the beautiful and cold Estella over and over again.  As she lures me in only to break my heart, I am reminded of the first time I read Great Expectations.  Looking back, I am better off for having loved and lost her, only to find her again each time I read my favorite Dickens' novel.

Jessica:
Wealth, fame and money mean nothing to me in a man…Unfortunately they don't meet consideration unless they have supernatural powers. They must be an impossible mixture of brooding, complicated and oddly blunt and straightforward.
I don't have high demands: my male archetypes were only formed in my teenage fantasy and sci-fi reading years, usually witches or wizards. The male witch from Margaret Mahy's The Changeover. Unfortunately, our first date would have to be prefaced by some crisis, like someone in my family getting demonically possessed. Up to that point I would have treated him with wary suspicion after he made some off-color/sarcastic comment at the bus stop. As I later discovered though, the reason why he was occasionally rude/weird/monosyllabic was because he was 'special'. He's a third generation witch – and when I'm finally forced to seek his help after the crisis occurs, I go over to his house, and his mother and grandmother really like me, which is convenient. It turns out that he's not actually as geeky as he looks at school, and for some reason he chooses to wear seductive Chinese silk robes around the house. We spend most of our time at his enormous old house with its beautiful garden, battling evil, looking over esoteric texts & engaging in sarcastic banter.
Katy:
The worst date I can imagine is a serious date, which is why I would ask out Mercutio from Shakespeare's Romeo and Juliet. He's witty and upbeat, so hanging out with him would be a blast (unlike Hamlet, who would probably insult my honor until I ended up snorting water out of my nose and crying in a river). I would like to take Mercutio out for some delicious Italian food, complete with a bottle (or two) of red wine, followed by a late night swim. Maybe I would even ask him to teach me the basics of fencing—through probably not after all that wine!
Kelsey:
"The Father" from Cormac McCarthy's novel, The Road, will take you to a good, old-fashioned American eatery where you can indulge in a big sloppy Joe without feeling paranoid that he thinks you're eating too much. (Ignore him stuffing as many rolls as possible into his pants.) You won't have to try too hard to get dressed up, because this man has been through an apocalypse, so he's seen everything. In fact, he is so tough that, even though McCarthy killed him off, he's back just to take you out to dinner. He'll teach you survival skills, how to run how to hide, and most importantly, he'll take you to the shooting range and show you how a real man gets the job done. In case he seems a little rough around the edges, The Father will talk to you about his son so tenderly you'll be weeping by the time dessert comes around. He's "The Real American Man," rough-and-tough-and-tumble, and he can be all yours. As an added bonus, he'll never tell you his name, so you can't forget it.
Melissa:
For myself, I kind of fell in love with Mark Twain's Tom Sawyer in the 6th grade. Mischief and adventure were totally my jam. I would have loved to spend Valentine's Day climbing trees with him and chucking pine cones at the passersby below, then searching for lost treasure in a bunch of interconnected caverns full of bats and stalactites. If s'mores had been around in his era, I definitely would have wanted to fit those in somewhere too.
Wes:
Game of Throne's Daenerys Targaryen is all of my female fantasies personified. Just her name is implicit of great beauty, complexity, and frequent misspellings. She is true heir of the throne and leader of a barbarous horse people. Needless to say, I'm down with being a stay-at-home Dad. She is honest and straight forward, though mired in contradictions (just my type). Dany is wild, yet reserved; compassionate, yet ruthless; and driven by a sense of justice though most of her convictions are still untested. She has purple eyes, silver hair, and did I mention she is the mother of three dragons? I have a particular weakness for dragons.