By Antoinette Weil
Before I begin, let me first give the disclaimer that I have never done this before. I like movies, but I am by no means a film critic. I am not trained in film at all, other than my Australian Film class I took while studying abroad. But I have been seeing a lot of movies lately, and I had a lot of fun with my Cosmopolis  review.  Alas, movie reviews I shall write.
Compiled below are my thoughts on some of the films. Check out my more thorough reviews of Beasts of the Southern Wild and Amour.
PLEASE NOTE: Some of these reviews do contain spoilers.
*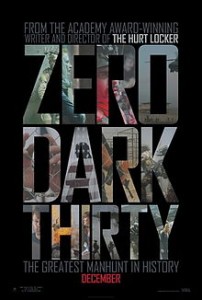 Zero Dark Thirty
The beginning of Zero Dark Thirty was difficult for me to watch. Wincing, shifting my eyes to the side, and thinking this was going to be tough to get through, I felt immensely uncomfortable watching the torture and complete vulnerability of a human being.  Interestingly enough, by the end of the film, Jessica Chastain sitting alone in the back of a plane, a single tear rolling down her cheek, overwhelmed and underwhelmed at the fact that an intense eight-year chapter of her life had closed, you kind of forget about all that torture in the beginning.
Chastain's character is young and confident to the point of borderline naivety. But she is smart, she is dedicated and outspoken, and eventually she completes her mission. Chastain really makes this movie. Her sweet looks and demeanor coupled with the no-nonsense attitude of her character and the grim and grueling ranks of her work, create an intriguing and believable protagonist.
Seeing the background story, that was happening all around us and right under our noses, of the hunt for Bin Laden was sort of haunting. I like seeing the behind the scenes stuff, "what really happened", and it was certainly fascinating to watch through the lense of this film. But it was incredibly dark, and at the end it left me feeling a kind of emptiness (much like Maya experiences in her plane ride home.)  Zero Dark Thirty displays the answer of how we got Bin Laden, but the questions is provokes are far greater.
Django Unchained
Django Unchained was one of the most entertaining of the Best Picture films, and who doesn't love a good Tarantino film?
The combination of humor and badassery that Tarantino brings to his films keeps you watching and wanting more — and makes the extreme violence seem like background noise so that the bigger issues shine through.  The acting was near perfect. Jamie Foxx, Christoph Waltz, Samuel L. Jackson, and Leonardo DiCaprio seriously brought it. I think I formed a crush on Waltz through this movie and am probably going to be looking to see all of his previous films. Because, as the kind-hearted killer Dr. Schultz, he was SO incredibly engaging. The character was brilliantly written, so I'm sure that is part of my bias. A German doctor-turned-bounty-hunter who kills for a living but draws his moral line at slavery? I'll take two.
The film, inevitably and in true Tarantino fashion, turns into a bloodbath. But the fantastical shoot-em-up spectacular towards the end was a cake walk when compared with the more thematically disturbing scenes, which offer less blood and less gore, but make up for it in the unnerving vision of pure unfiltered evil played out on screen.
Here's what Django does: It gives us an exciting and entertaining excuse to take a look into our Country's most shameful history.  But putting into context the brutality of small day-to-day events, and the fact that the entire black American experience was formed out of this treacherous circumstance, creates an opportunity for one to think critically and in depth about slavery and the need for repentance that never came.  I hear the criticisms that have been voiced, but overall I'm a big fan of this film.
Les Miserables
While I haven't read Victor Hugo's classic and I have never seen a theatrical performance of Les Miserables, I was in chorus in high school and one year we performed all of the songs. So while the music was familiar, the details of the story were pretty blurry to me before seeing the most recent film adaptation.
That being said, I was SUPER excited to see the film. And let's be serious, that trailer starring Anne Hathaway was awesome. As a matter of fact, Hathaway's performance in general was phenomenal. In stark contrast with the rest of the cast, I cannot say one negative thing about Hathaway's portrayal of Fantine. Her singing was haunting and lovely. She was beautiful and wretched and desperate and hopeless. Believable. The silver lining of this uninspiring film.
As for the rest of you…
Russel Crowe's singing voice is nasally and unpleasant to say the least. His singing sounds strained as if each note in each song were a struggle. (I once heard a singing tip that it should never sound like you're straining and that the audience would hear it and be turned off. This was in the back of my mind the whole time listening to Crowe.)
I can't (or won't) hate on Hugh Jackman in the same way. His singing wasn't great either (by any means) but I suppose his character had more emotion and more life. I felt more compelled to like him. NO, not because he's the good guy. I have no problem liking a bad guy (hence my strange affection for Billy Bob Thornton—real life!) BUT where Crowe's portrayal of Javert felt flat and boring, Jackman got across the emotions that he was hired to display and incite.
Am I alone on this one? Did anyone out there see this movie and seriously love it? There were people crying in the theater I was in. I'm not some kind of emotionless robot, I cry a lot in movies. All the time! So why wasn't I crying? Should I have seen the show first before seeing the movie? Is it one of those things you have to have background knowledge of to really get into? But…but…I know the songs!
Life of Pi
Much like the title suggests, Life of Pi is the story of a big adventure, and the life leading up to it, of a boy named Pi. He dubbed himself Pi in grade school because of the target that his full name, Piscine, made him for torturous teasing. He declared on the first day of school that he would be "known to all as Pi", explaining the significance of the mathematical figure and writing the number out in its entirety (almost), impressing students and teachers alike and becoming a school legend. Which turned out to be a theme of his life.
I can't let this go. Because I don't remember a lot of mathematics from school, but I remember Pi. Everyone does. IT is a legend! And Pi is an irrational number and also a transcendental number. I would argue that Pi, our protagonist, is also both of these things. Here is a quick Wikipedia article on all the different forms of "transcendence" (religion and math are the top two, go figure.) Anyway, I thought this was pretty rad and tied in nicely with the film. (And don't we all love feeling we're somehow smarter because we've picked up on the significance of clues the artist gives?)
Pi recounts the story of his great adventure to a writer: "It's a story that will make you believe in God."  And I suppose it could. But at the end there's a little gotcha moment and I was left wondering who was right.
Let's get to one of the best things about this film: I need to talk about the magnificence of the cinematography. Every scene is a visual indulgence. It is breathtakingly beautiful. I could have watched the thing on mute like a 2003 Windows Media Player sound Visualizer (you remember those right?) I mean it was completely synthesized and computerized and edited and whatever other terms apply….I don't even know if a single scene was shot with real people in a real location or if it was all done on a green screen in a studio. But I DON'T CARE. It was, in addition to being a thoughtful and thought-provoking film, a display of artistry.