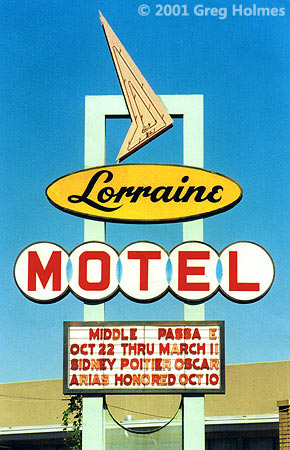 Day 10 of this road trip across the country and I find myself in the center of Memphis, Tennessee.  I spent over twelve hours in the car yesterday and drove through 5 states; it was liberating and quite astonishing.  I am sure I am not the first person to do such a thing, but I never really thought that I would travel that much in a twelve-hour period.
I am currently sitting beneath the balcony where Dr. Martin Luther King Jr. was assassinated on April 4, 1968.  The sun shines down upon me on a very different era of this nation; our African-American president, Barack Obama can attest to that.  He plainly demonstrates the advancement of Black Americans everywhere and the growth of our country as a whole.
I visited the National Civil Rights Museum in Memphis at the Lorraine Motel, the exact location where Dr. Martin Luther King Jr. was shot.  Admission was $13 dollars and for an extra $2, I purchased the audio tour, which I highly recommend.  It clearly guided me through the museum and allowed me to stop or pause when I wanted to read further into what they were speaking about. The museum offered a great display of our nation's struggles with civil equality.  Displays of segregation, the sit-ins, the riots, the protests, the lynchings, the KKK, the marches–all this and more was made visible, present.  Both the desire and willingness African-Americans had to fight for our country and the terrible reality of our history of oppression were prominent throughout the museum.  I was overwhelmingly impressed with this museum and am so happy that we asked Camille, a local, for her recommendations.
Before walking to the museum, we ate brunch at a local hotspot on the corner of Second Street and Union Ave: Cockados.  A quaint, welcoming restaurant that offers bottomless mud coffee and an amazingly decadent dish of bananas and peanut butter sandwiched between two French toast drizzled with maple syrup, whipped cream and blueberries.  Cockados is a great way to welcome yourself to Memphis.  This is also where I received the museum recommendation–as opposed to going to Graceland.  Clearly, we took their recommendations and are 100% happy with our choice.  I was very impressed with Memphis and had a great time there.  After the museum and before getting back into the car, we took a stroll down Beale street and sat outside with our large beers, live music and 7-year-old street performers.  Memphis was not only beautiful, it was also rich with history and culture.  But enough for today.  The road still stretches in front of us, so we head north… safe travels.