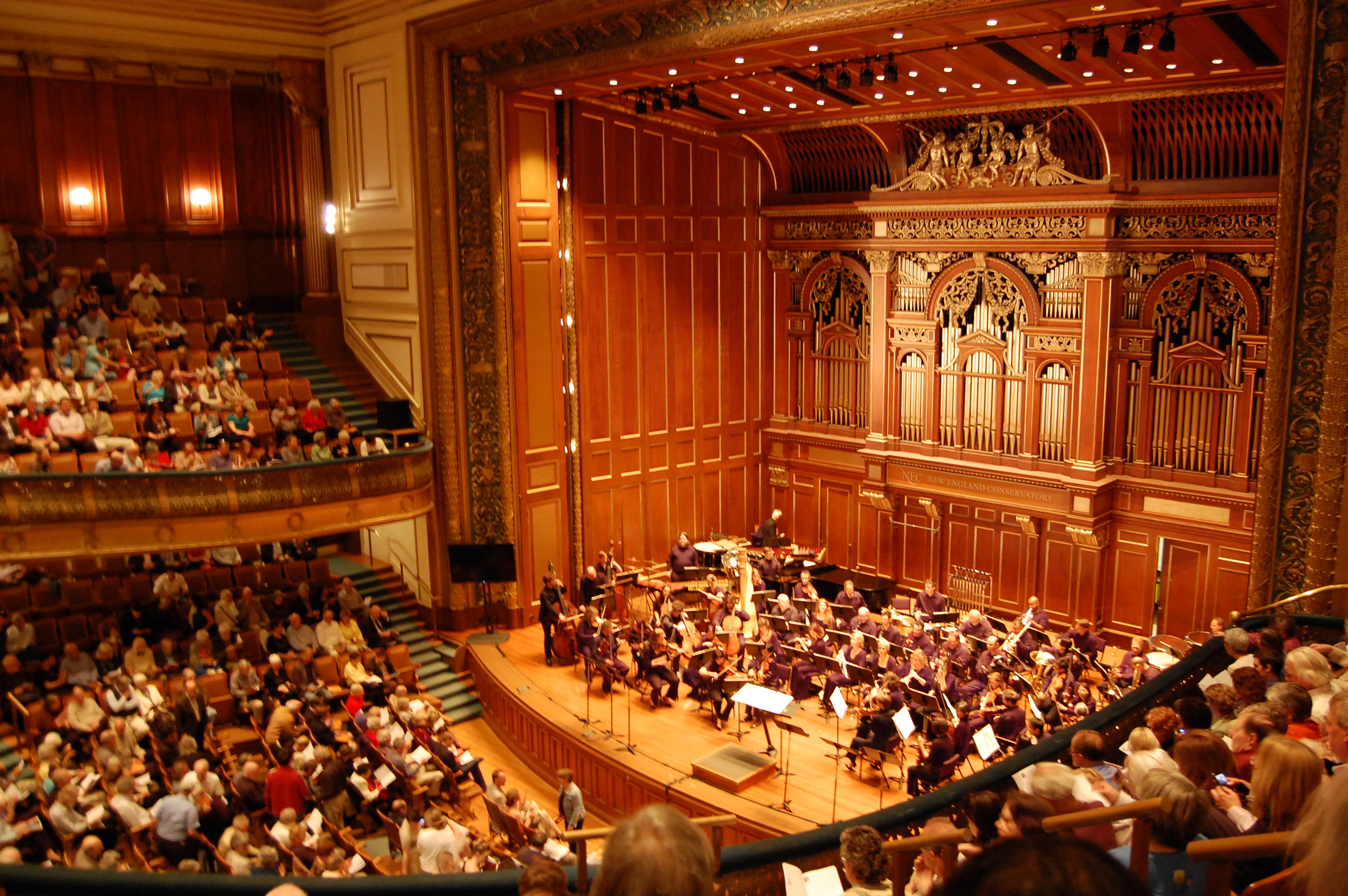 Gone are the days when literature fans were ranting traditionalists, decrying other media besides quill and parchment.  These days we're as much dependent on the screen to feed our reading habits as anyone else.
So how do we feel about an adaption of F. Scott Fitzgerald's classic, The Great Gatsby, that makes the transition backward – to an older medium, from the page to the live action world of the stage? And how does a composer map out Gatsby's world in the static setting of a theatre, without special effects, while mediating the characters' sentences through the flowing notes of a score?
First performed in 1999, John Harbison was originally commissioned by the Metropolitan Opera to write an operatic adaptation of Fitzgerald's literary masterpiece in 1997.  A daunting task, but Harbison was up for the challenge.  In tandem with the release of the latest film adaptation, Harbison's opera recently came to Boston, with a performance by the orchestra and chorus of Emmanuel Music.
One of the first things Harbison did when writing his opera was to take note of when everything was happening in Gatsby. He had to build the novel's timeline in order to deconstruct it, and this was more difficult than you'd imagine, because, as Nick Carraway himself puts it, Gatsby is basically the contracted story of "the events of three nights," big, dramatic parties that got snagged away from the stream of ordinary happenings.
It's one of those things peculiar to youth, to remember long stretches of time in terms of dramatic parties and social events, celebrations and disasters.  Gatsby, the opera, may have sacrificed the fluid, romantic garden and water scenes for a closed-in stage, but it had the advantage of opera's gripping musical crescendos to represent the heightened emotional drama of these scenes.
And perhaps in some ways, Baz Luhrmann's The Great Gatsby adaptation is as much an opera as it is a movie. Luhrmann, like Harbison, has previously reworked a classic (Romeo and Juliet), and his movies have been heavily dependent on spectacle and song. Perhaps the only way you can approach the classics is with bravado – and the whole brass section of an orchestra.
Harbison, for his part, ignored advice heard at Princeton that "you don't set Shakespeare," and wrote an opera for A Winter's Tale anyway.  He ignored the traditional path of getting someone else to write the libretto – Gatsby's libretto is his own, based in large part on scenes from the book.
At the pre-concert talk with Emmanuel Music, Harbison explains that his librettist editors told him: "You blew The Plaza scene. It was a complete disaster. I'm going to have to rewrite it for you."
The scene was not rewritten, and The Plaza scene was riveting.  Alex Richardson's Tom lashed out at Myrtle for mentioning Daisy's name and, while you knew it was coming, it was still a shock. The opera setting provided the fireworks to incite that shock  – Richardson's Tom was a barrel-chested guy with a deep booming baritone, and his outbursts were underlined heavily by the restive, melodrama of the score.
"People who remember everything and remember nothing have the best time," said Harbison, of his opera, at his pre-concert talk. Like memory, a classic like Gatsby becomes a container and receptacle for associations that are personal and subjective – so Harbison explains that scholars with an objective viewpoint, or people who know nothing about the book, enjoy the opera. "I went into this piece thinking this was this little novel that I slipped into my pocket", said one of Harbison's librettists, with mystification at the expandable nature of Gatsby. Likewise, with the character of Gatsby himself, who Harbison describes as "transparent and opaque at the same time," a man who could make people feel important, while he himself disappeared.
I have to admit that it was tough going watching the mobile, youthful characters of the book confined to the stage. But the opera's ingenious score and 1920s-style faux pop songs (written by Murray Horwitz) went a long way to producing the sense of atmosphere that pervades the book.
The Great Gatsby, it seems, has given the 'green-light' for many interpretations of its nature. You get the sense that the difficulty of setting it for opera encouraged Harbison rather than put him off. For new artists adapting this work, if you can't change the past, then the message is, don't look back!
Luckily, at Literary Traveler, it's not our job to worry about changing Gatsby. We will be looking back though, as we research Gatsby's origins for our upcoming pilot –  Stay tuned and be sure to check out our Kickstarter page for more on Gatsby and our exciting project.