In these days of instant information, it's not often that readers get to indulge their fascination with physical books as objects of desire. At first glance, the 36th Boston International Antiquarian Book Fair looked like any trade expo held in a harshly lit convention room. But it turned out to be somewhere between an art exhibition and an exotic bazaar. With only a few hours to inspect the stalls, I felt like a tourist stumbling into a city's hidden market on the last day of holiday. This is one of only three American book fairs endorsed by the International League of Antiquarian Booksellers and the Antiquarian Booksellers' Association of America.  It's an outing not only reserved for the serious collector, but for anyone interested in books and the art of books.  Because this is an International event for the small world of Antiquarian booksellers, it's also a lively gathering for the booksellers themselves.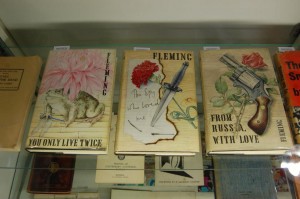 With cocktail in hand, Ken Sanders of Ken Sanders Rare Books in Salt Lake City gave me a sense of the camaraderie of booksellers who meet for a couple of days each year for banter, bartering and the renewing of old friendships.  Booksellers have taken a variety of routes into the trade. Ken told me how he quite literally worked his way up the (step) ladder from stacking shelves at a bookshop.  Erin, of Royal Books was an art student with a printing background who started out restoring books in her college library. Erin's employer at Royal Books, Kevin Johnson, stocks first editions that were made into films and has written about forgotten detective novels that were turned into noir cinema. The Lucius Books stall, which specialized in first editions of crime novels, was manned by suave looking 'agents' from York, England.  A selection of gorgeous Ian Fleming first editions drew my eye, and founder James Hallgate explained to me that they were illustrated by a guy named Richard Chopping, who also wrote The Fly.  According to Hallgate a lot of British illustrators in the 50s and 60s were also writers.  Fleming and Chopping were friends, so Fleming's influence is stamped all over these editions. The gun on the copy of From Russia With Love is a drawing of a .38 Smith & Wesson revolver belonging to Geoffrey Boothroyd, a weapons expert who wrote to Ian Fleming expressing his admiration for the series, but advising that Bond use better weapons. As a tribute, Fleming used his weapon of choice for the cover and created the official armorer character called Major Boothroyd who appears in the novel Dr. No.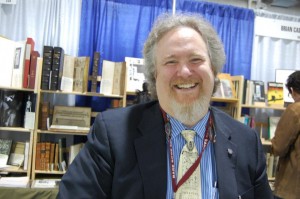 One of my favorite booksellers was Ian Kahn of Lux Mentis Booksellers in Portland, Maine. Kahn is an ex-hacker and self-confessed lover of 'shiny things'. Lux Mentis is located on 'Marginal Way' in Portland – an ideal address for an esoteric bookshop.  Kahn describes the logic behind his collection as 'idiosyncratic crap that I love'. He affectionately maintains a 'sex 'n' death' section, where I was drawn in by the sublime and the ridiculous, including an interesting high concept art book (not for the sensitive reader) and the gorgeous Séance for a Minyan by the renowned copper engraver Michael Kuch. The book is a moving meditation on the death of Kuch's lifelong teacher, the renowned sculptor and printmaker, Leonard Baskin. Khan also recommended a book of woodcuts by a Dublin artist about the sinking of the Titanic. The story is cleverly told from the point of view of the printers onboard the Titanic. As strange as it may seem, the Titanic really did have a printing shop aboard.  One of the most exciting things about the fair was the mixing of rare productions by modern printers with older books. Unfortunately, because of the relationship between scarcity and desire, it's not just old books that have a high price tag, but limited edition zines and relics of pop culture too.  At Brian Cassidy, Bookseller, I saw such treasures as a proof copy of Fight Club, a first edition of the cyber-punk zine Boing Boing and a framed self-portrait doodle by Allen Ginsberg as a cartoon Buddha.  An original photograph of Patti Smith by Robert Mapplethorpe was priced at $6000.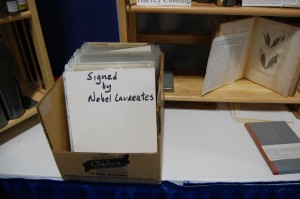 If I'd had the time, I would have looked at more children's books and maps, or lingered at Scientia Books, with its beautiful meticulous anatomy books and its intriguing box of books 'signed by Nobel laureates'. Among the most impressive items I saw were the propaganda prints of the epic funeral of Charles II. The dynasty was reinforced by over the top public mourning, which lasted for months after the king's death, throughout France. I was reminded of the theatrical scenes of public mourning at the funeral of Kim Jong Il.
Before leaving, I asked Ian Kahn whether he was ever reluctant to part with his treasures. He said wryly that if he really values something, he prices it 'aggressively'. But I wonder if he still minds when someone comes along who is prepared to pay the price.  Kahn explains that in the trade, getting the books to their ideal owner is the goal. At the point where someone is willing to pay the price, the right owner is the one who wants it most.  However, Kahn holds on to some old James Joyce editions that were read to him as a child, just in case.