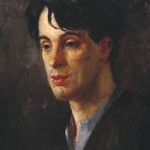 William Butler Yeats is not only a Nobel Prize winner, but he's also  a major figure in the literary revival of Ireland during the 20th century.  Yeats brought his own unique style and lyrical quality to every poem, and even play, that he ever wrote.  For example, here is what Yeats writes about autumn in Ireland:
AUTUMN is over the long leaves that love us,
And over the mice in the barley sheaves;
Yellow the leaves of the rowan above us,
And yellow the wet wild-strawberry leaves.
The hour of the waning of love has beset us,
And weary and worn are our sad souls now;
Let us part, ere the season of passion forget us,
With a kiss and a tear on thy drooping brow.
The Falling of the Leaves by W.B. Yeats
Yeats evoked not only the seasons, but the beauty of the Irish countryside, finding the magical and exquisite quality in all of nature.  Yeats was also especially interested in the supernatural.  He wrote about fairies and other elements of mysticism.  As writer Wendy Hawkin says in her article Conjuring Yeats, "he spun a magical web around the west, transforming it into the most mystical landscape in the whole of Ireland."
To be especially Irish this year, pick up a volume of Yeats' poetry or read one of his indelible plays.  To continue reading about Yeats, please check out:
Selected Yeats' poetry from Poets.org