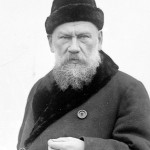 Russians invade American book market in 2011!  Is that really true?  Actually, it is.  In my Vladimir Nabokov post, I discussed how Vladimir Nabokov's son is publishing his father's love letters to his mother.  This book is one of the most highly anticipated of 2011.  The publication date is TBA.
Now, we are lucky enough to have three more books about famous Russians in literature coming out in January 2011.  Let's take a look:
1. Leo Tolstoy and the Alibi of Narrative by Justin Weir, Yale University Press
This book is an exploration into Tolstoy's complex narrative and how he continues to mystify interpreters.  Weir, professor of Slavic languages and literature at Harvard University, gives a fresh, in-depth look to Tolstoy's storytelling strategies.
2. Count Leo Nikolaevich Tolstoy: The Critical Heritage by A. V. Knowles, Routledge UK
Knowles takes a closer look at Tolstoy's writing and why the author's contribution to literature is so important.
3. Joseph Brodsky: A Literary Life by Lev Loseff, translated by Jane Ann Miller, Yale University Press
This insightful and intense biography written by Lev Loseff, one of Brodsky's dear friends, shows the genius and influences of the great Russian poet.  Loseff discusses Brodsky's rise to literary greatness as winner of the Nobel Prize and America's poet laureate.
So ring in 2011 with Russian literature.  It can't get better than Tolstoy and Brodsky!
*
Russian Articles on Literary Traveler
Amy Grace Loyd, Literary Editor of Playboy, Talks Nabokov and The Original of Laura
In Search of Vladimir Nabokov in St. Petersburg, Russia
Vladimir Nabokov in the Grand Canyon & the Discovery of Butterfly Neonympha