As I'm sure everyone ha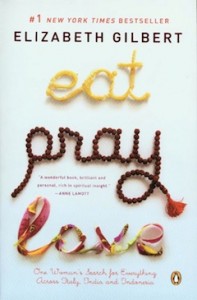 s heard, Eat, Pray, Love hits theaters this Friday.  In case there is anyone unfamiliar with this cultural phenomenon, Eat, Pray, Love follows the protagonist, played by the always gorgeous Julia Roberts, as she travels around Italy, India, and Bali.  She starts a "no carb left behind" project, she consumes copious amounts of delicious pasta, she learns to pray and discover herself in India, and she finally finds love in Bali.  But here's the thing: Julia Roberts isn't playing some random character – she's playing a real woman.
The woman in question is author Elizabeth Gilbert, who penned the 2006 memoir/travel narrative/food porn extravaganza that quickly became a best seller.  The book has inspired numerous readers to search within themselves for a deeper strength, and to reexamine their lives, looking closely at what makes them truly happy.
Gilbert starts the book – and the movie – unhappy.  She has just gone through a messy affair and a subsequent divorce.  She's educated and wealthy, but she is just not satisfied.  Something, an elusive something, is missing from her life.  This realization prompts her to drop everything and begin traveling.  She is lucky enough to have the funds to undertake a project many of us can only dream of, but her story is still relatable.  Gilbert is lacking something, and through risking everything, she finds what she needed the most: herself.
In honor of the movie's release, I'd like to suggest we all take a moment and think about what it is that makes us truly happy.  For some people, it's the thrill of travel, or the calm of mediation.  For others, it's creamy, indulgent pasta or freshly made sausage.  For me, it's fresh basil, old cotton t-shirts, used books, and red wine.  What makes you feel blessed?