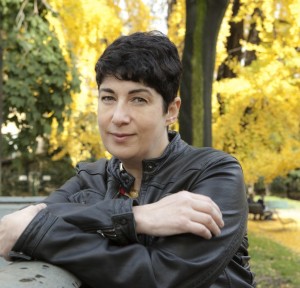 "Publication was never my initial objective," admits British author Joanne Harris. "I kept writing because I liked it, and on some level I guess I had to do it… but when my first book was published, I was absolutely delighted. And better even than just being published, I was actually read by people," she told Literary Traveler, laughing.
In case you are unfamiliar with Harris' work (or deceived by her humble attitude), she is one of the most popular British writers living today. Though her most famous novel may well be Chocolat, which was made even more memorable by the film with Johnny Depp, she has also penned everything from young adult novels (Runemarks) to cookbooks (The French Kitchen).
Along with Bill Bryson, Joanne Harris was invited on board Cunard's the Queen Mary 2 as part of their Literature & Liners series, where she spoke to the passengers about her two greatest passions: writing and food. After her book signing, we were able to sit down with Harris for a private interview—which we naturally recorded.
In this latest installment of Literary Traveler TV, Joanne Harris talks to our editors about the experience of traveling on such a grand old ship, how she became a writer, and perhaps most interestingly, her thoughts on the intersections between food, travel, and literature. "I think food has always been a popular theme in literature. I've been wrongly–but flatteringly—attributed this task of having brought food in fiction into popularity, but it's not at all true. I think, with it's link to travel, it's also one of the most accessible ways to learn about another culture."
Learn more about Joanne Harris and her literary musings by watching our video interview here. And for more Literary Traveler TV, please check out our YouTube channel.