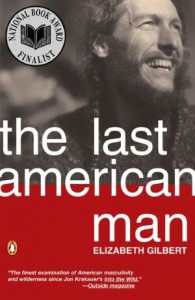 Dear Literary Travelers,
Our first Literary Traveler book club on Cheryl Strayed's memoir was a 'wild' success and we cannot wait to do it again!  We are pleased to announce that our next book club will take place on Tuesday, August 21st and we will be discussing Elizabeth Gilbert's 2002 book,  The Last American Man.  From the author of Eat, Pray, Love comes a biography about Eustace Conway, a man who, at seventeen, moved into the Appalachian Mountains and has lived off the land there for the last twenty years.   We have chosen this book as a follow-up to Strayed's memoir  Wild: From Lost to Found on the Pacific Crest Trail for multiple reasons.  On the surface, the commonalities may seem apparent, as both feature true stories of individual experiences of the 'wild.'  Yet, the two also boast a really nice contrast to one another.  Whereas Strayed's book provides an inspiring tale of womanhood and female independence, Gilbert's book examines the perception of American masculinity.   Outside Magazine calls  The Last American Man, "The finest examination of American masculinity and wilderness since Jon Krakauer's  Into The Wild."  For an excerpt of the book, which was a finalist for the National Book Award in 2002, check out the Penguin.com website.  We are sure that you will be just as excited as we are to start reading!
For those of you in the Boston area who would be interested in taking part in the Literary Traveler Book Club, please e-mail Amanda@literarytraveler.com to join, or for more information.  We hope to see you at our August 21st Book Club meeting, which will take place in Somerville,MA.
For those of you who cannot attend in body, we would love to have you there in spirit.  If you have read Gilbert's book, or would like to read along with us, we would love to hear what you think and we will be discussing the book on our website, as well as our blog, over the next month.  E-mail us, post your comments on Facebook or Tweet us. We look forward to hearing from you!
Thank you!
The LT Team