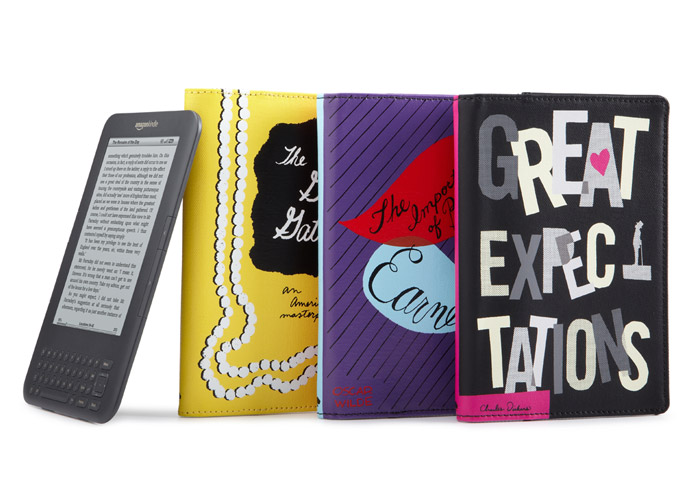 There seems to be two schools of thought when it comes to eReaders.  On one side we have the tech savvy convenience driven consumer who appreciates the ease of carrying multiple books on one device, whether it be for traveling or her daily commute.  The other side is hesitant, with fear of sacrificing beloved books on the altar of technology, and would prefer to forgo packing other essentials in order to squeeze a few more paperbacks into his carry on.  For better or worse, it seems like this eReader is here to stay.  If it is any indication of the future, even IKEA is jumping on the e-book bandwagon.  According to The Economist, IKEA has updated its popular "Billy" bookcase to a design with deeper shelves and glass doors that is less than ideal for storing books in print.  Up to this point I have been skeptical of making the switch to electronic books, but with the new Kindle Fire, which merges the convenience of an eReader with the benefits of a tablet, I could be convinced.
The Kindle Fire was released last month and for $199, a fraction of other tablets, which raises the question of whether it can compete. But it's intended to. In addition to the typical features of an eReader, the Kindle Fire can store music, movies and TV shows, as well as provide the user access to a limited version of the Android app store. Although the 7 inch screen is smaller than the iPad screen, and it doesn't have a camera or a microphone, it seems like the perfect gateway device for those looking to segue into electronic reading.  As for eReader veterans, the Kindle Fire offers all the previous benefits of the older model (except now it's back-lit like other tablets) with a lot of really convenient added perks, such as web browsing and access to e-mail.
Also tossing its hat into the ring this holiday season is the Barnes & Noble rival device, NOOK Tablet.  Reviews on the NOOK are similar to that of the Kindle, with different sites favoring one over the other to the point where, if you have a tendency to over think, you might want to flip a coin.  Differentiating the two more than anything is their advertising campaigns.  While the NOOK is advertised in a commercial featuring 'Glee' favorite, Jane Lynch, and a catchy tune, Amazon targets serious bibliophiles in its commercial, which quotes Voltaire and pays homage to early printing as predecessor to the eReader.  Does this say something about the target demographic for each?  For the consumer like me who may not be as tech savvy as she would like, product promotion can speak volumes.
Ultimately, whether you choose Kindle, NOOK, or splurge on the iPad this holiday season, do it in style.  There is no reason you can't have the convenience of an eReader and showcase your support for the book simultaneously.  If you want the ease of a Kindle, but still want to broadcast your literary roots – or perhaps mask that closet Twilight addiction – Out of Print Clothing offers eReader jackets with classic book art from Pride and Prejudice to The Great Gatsby, and everything in between.  So keep reading, your secret is safe with me.