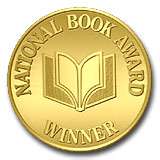 The National Book Awards are a pretty big deal. They may not be as publicized as the Grammys or as glamorous as the Oscars, but on the American literary scene, there are few greater honors.
The National Book Award is given to writers by writers, recognizing the best of American literature since 1950. This coveted award has advanced the careers of both emerging and established authors, and many past winners have become staples of American literature, including William Faulkner, Flannery O'Connor, Thomas Pynchon, Rachel Carson, and William Carlos Williams – just to name a few.
Each year, the National Book Foundation receives many entries, but to be eligible, a book must be written by an American citizen and published by an American publisher between December 1 of the previous year and November 30 of the current year; no entry can be self-published. This year, 1,223 books were submitted to the foundation, which were then narrowed down to only twenty finalists, or five finalists per category: Fiction, Nonfiction, Poetry, and Young People's Literature. Judging each category are five reputable authors who are doing great work in their genre, and who are sometimes past finalists or winners themselves.
Although there has always been a ceremony to announce the winners of the award, for the first time in history, the 2011 award ceremony will be webcast live from New York City tonight at 8 pm EST.  There is no registration necessary: the broadcast will be featured on the foundation's homepage, www.nationalbook.org. Here viewers can watch, in real time, the winners in each of the four categories accept their awards, and see Mitchell Kaplan (co-founder of Miami Book Fair International) and John Ashbery (National Book Award and Pulitzer-winning poet)  receive their lifetime achievement awards. If that's not exciting enough, the host of the event will be John Lithgow, a talented author, actor, and musician who has written ten books and acted in films and television shows such as Dexter, the Shrek franchise, Terms of Endearment, and Dreamgirls.
This year boasts an incredibly talented group of finalists, all of whom are after the hefty $10,000 prize, a bronze sculpture, and the respect of writers and readers all over the country. These finalists are:
For Fiction:
–       Andrew Krivak,  HE SOJOURN (Bellevue Literary Press)
–       Téa Obreht, THE TIGER'S WIFE (Random House)
–       Julie Otsuka, THE BUDDHA IN THE ATTIC (Alfred A. Knopf)
–       Edith Pearlman, BINOCULAR VISION (Lookout Books)
–       Jesmyn Ward, SALVAGE THE BONES (Bloomsbury USA)
For Nonfiction:
–       Deborah Baker, THE CONVERT: A TALE OF EXILE AND EXTREMISM (Graywolf Press)
–       Mary Gabriel, LOVE AND CAPITAL: KARL AND JENNY MARX AND THE BIRTH OF A REVOLUTION (Little, Brown, and Company)
–       Stephen Greenblatt, THE SWERVE: HOW THE WORLD BECAME MODERN (W.W. Norton)
–       Manning Marable, MALCOLM X: A LIFE OF REINVENTION (Viking Press)
–       Lauren Redniss, RADIOACTIVE: MARIE & PIERRE CURIE, A TALE OF LOVE AND FALLOUT (It Books)
For Poetry:
–       Nikky Finney, HEAD OFF & SPLIT (TriQuarterly)
–       Yusef Komunyakaa, THE CHAMELEON COUCH (Farrar, Straus and Giroux)
–       Carl Phillips, DOUBLE SHADOW (Farrar, Straus, and Giroux)
–       Adrienne Rich, TONIGHT NO POETRY WILL SERVE: POEMS 2007-2010 (W.W. Norton)
–       Bruce Smith, DEVOTIONS (University of Chicago Press)
For Young People's Literature:
–       Franny Billingsley, CHIME (Dial Books)
–       Debby Dahl Edwardson, MY NAME IS NOT EASY (Marshall Cavendish)
–       Thanhha Lai,  INSIDE OUT AND BACK AGAIN (Harper)
–       Albert, Marrin, FLESH AND BLOOD SO CHEEP: THE TRIANGLE FIRE AND ITS LEGACY (Alfred A. Knopf)
–       Gary D. Schmidt, OKAY FOR NOW (Clarion Books)
Tune in to the live feed now to see which four finalists walk away with the prize!