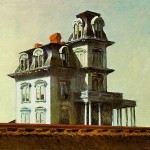 I know you hear the theme music, the vicious stabbing of the shower scene.  And, of course, you can hear the crazy talk of creepy Norman Bates and his equally creepy mother Norma.  If you haven't seen the classic film, Psycho, it's time to put it on your Netflix queue.  Most people know it's directed by Alfred Hitchcock, but do you know who wrote the novel Psycho, which was the basis for the film?
Robert Bloch (born April 5, 1917) was the inventive and innovative writer of Pyscho.  Bloch loved the elements of horror and all its nuances, thus adding horror to his genres of writing.  In the 1930s, as a youngster, he was an avid reader of the horror magazine Weird Tales.  A frequent contributor to the publication was H.P. Lovecraft, now considered the father of modern horror.  He and Bloch wrote to each other and Lovecraft generously offered his writing advice.  Therefore, Lovecraft became Bloch's mentor.  Bloch learned from the best.
Psycho was published in 1959.  Bloch based the character of Norman Bates on serial killer Ed Gein.  By 1960, Psycho was adapted into a screenplay and director Alfred Hitchcock took it on as his next project.  Bloch, however, was not involved in the film-making process–which is normal for writers.  Though the movie Psycho became a major success and a classic film, Bloch received less than $7000 for the screen rights.  His agent and publisher Simon & Schuster each took their percentages, leaving Bloch with a notoriously bad film deal.  Bloch received no more direct compensation for the film despite its immense profits of the day.
Bloch died from cancer on September 23, 1994.  He wrote a plethora of novels and short stories, but none was bigger than Psycho.  It will always be Bloch's horror legacy.