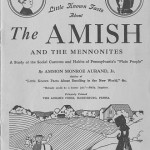 Yeah, I know.  I'm 11 years behind.  The novel Plain Truth by Jodi Picoult was published in the year 2000 and still continues to be successful.  However, I hadn't gotten around to reading Picoult until this year.  I was inspired by our blogger Katie Davis' feature article on Plain Truth.  After reading it, the intent of reading the book stayed with me.  When my mother gave me a free copy, I knew it was the perfect time to start reading.
I was curious as to why Picoult is so popular, especially with women readers.  I was also curious to see how she handled the Amish topic.  What I've found reading the book is Picoult did impeccable research on the Amish, detective work and the Pennsylvania court system.  I like a dark edge to my reading and Picoult brings it as she portrays the Amish as enigmatic people.  Katie, the Amish girl that's at the center of attention, is a pious, young woman, but she also has a dark side, which makes her all the more human to us readers.
The woman protagonist, Ellie, a non-Amish woman and lawyer, is so flawed–just like the rest of us.  She's successful in her career, thin, attractive and financially stable.  She seems to have it all.  But that's just looking on the surface.  Underneath, just like Amish Katie, Ellie has a dark side that makes her so humanizing, she could be any of my women friends approaching 40.
And, of course, anyone who reads Picoult knows about her flawless descriptions that evoke a picture in one's mind of exactly what is happening, but in a lovely and poetic way. In this excerpt, Picoult masterfully describes an Amish barn raising:
Mixed with the sweet, raw scent of new construction was the heavier tang of men's sweat as they hoisted the other walls into place, secured them, and climbed the wooden rigging like monkeys to fasten the boards of the roof.
So I can say I fully understand why women love Picoult and why she's so popular.  She creates a very human world where women can feel just like themselves.
Please continue onto The Plain Truth about Amish Country by Katie Davis.