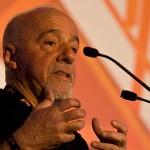 Paulo Coelho, famous Brazilian author of The Alchemist, reported on his blog on January 10, 2011 that the Minister of Culture of Iran has banned his books.  Coelho reports that his books have been published in Iran since 1998 and in various publishing houses.  To the author's shock and dismay, this is no longer the case.
6 million copies of Coelho's books have been sold in Iran under various governments.  He works with official publisher Caravan Books.  He blogged that his books have been sold in Iran for 12 years and that the decision to ban his literature is "arbitrary" and is most likely a "misunderstanding."
Coelho ends his blog post saying that he hopes the misunderstanding will be cleared up.  He asks for the support of his native Brazilian government to help him in this matter.
If literature is being banned in Iran, what is next?  What other books will the Iranian Minister of Culture decide to ban … or is this just a simple "misunderstanding" as Coelho leads his followers to believe?
Either way, it's a hot topic we'll be watching for days to come …