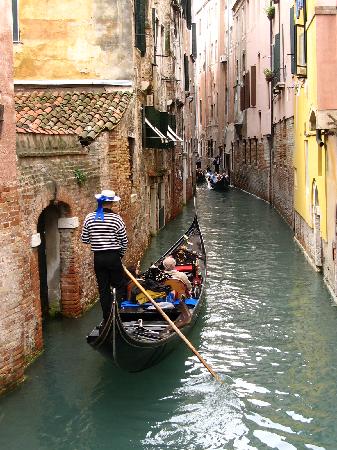 For me, Italy is a familiar country that has a strong hold on my heart.  After living in Rome for 4 months, I quickly became addicted to the atmosphere, the speed, the rich history and the overwhelming sense of a beautiful ancestry.
I was fortunate enough to be able to travel to Venice, Florence, and the Island of Capri.  I knew that Italy would be a place I would return to again and again.  When I came across a 6-day package with visits to Rome, Florence and Venice, I knew I would have to focus this week's edition of Travel Deals on my favorite destination.
This package includes 2 nights in Venice, 2 nights in Florence and 2 nights in Rome.  You will stay in first-class hotels located in the city's center.  You will be provided with 6 breakfasts and 3 dinners, which include wine (and you have to try the wine!).  The package also includes guided tours and free admission to sights.  Each of these cities is rich with history and historic sites – so much so that I recommend narrowing your focus according to field of interest.  Interested in architecture?  Then I suggest you try to visit the churches and cathedrals.  If you're more of an art-nerd, you might want to spend an afternoon in one of the many beautiful museums.  Foodies could spend years in all of these cities and still leave without tasting every delicious morsel they have to offer, so I suggest you choose a place to start.  How about a pastry shop?   Maybe you're more of a shopper – there's a place for that, too!  The sheer amount of options can be overwhelming, so I suggest you try to make a schedule around the guided tours so you can prioritize and manage your time.
From my own experience, I highly recommend taking a gondola ride through the canals of Venice.  This ride offers a great way to see the city while floating through the water (plus, they can be extremely romantic).  Prices range from $65- $123.  Gondolas hold up to 6 people and rides will last at least 50 minutes.
While in Rome, please go to the Colosseum; it is bursting with history and makes the past really come alive.  I remember seeing a portion of it as I was exploring one of my first days in Rome.  I literally got goose bumps and felt flooded with awe.  I also recommend walking over any bridge that crosses over the Tiber River in the evening after the sun has just set; the lights from the city are magnificent.
I spent my time in Florence alone, my focus was to see the churches, they all held their own antiquity and were independently engaging.  I picked up treats and snacks at many of the random markets along my way.  I recommend seeing the Duomo, Florence's cathedral church.  Also, I walked through many piazzas, but I particularly recommend the Piazza Della Signora, where you can see "The Rape of Polyxena," a structure constructed by Pio Fedi.  I stood in front of this piece for over an hour amazed by the details and the passion pulsing from this lifeless formation.
This package is a total of $1799. The flight goes from New York to Venice, but like any deal, you can alter the city from which you depart.