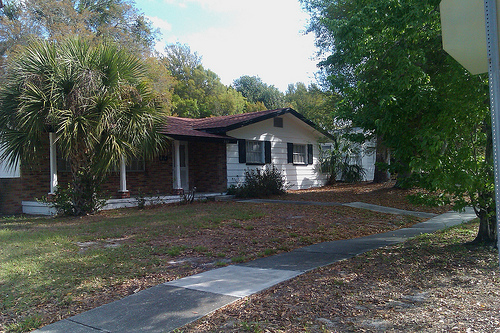 When most people imagine a literary trip paying homage to the great Jack Kerouac, they envision a profound cross-country adventure in the vein of his classic, On the Road.  After all, finding Kerouac is an elusive journey, not quite the same as visiting the Globe theatre for a slice of Shakespeare.
Yet, some Kerouac fans are rallying to raise the money to restore the Florida home where he lived towards the end of his life.  Kerouac resided in St. Petersburg in the 1960s with his mother and his third wife, Stella.  The small brick house, at 5169 10th Ave. N., is still owned by the author's brother-in-law, John Sampas.  It has been mostly vacant since the 1970s, although it is still home to some Kerouac memorabilia, including his desk, which is adorned with a 1969 telephone directory for Lowell, Massachusetts.  An announcement still hangs on the wall announcing Lowell's celebration of "Jack Kerouac Day."
Pat Barmore, one of the Kerouac aficionados behind the fundraising endeavor, graduated from a Florida high school in 1969 and set off on a Kerouac-inspired road trip.  Upon returning home he found the author had passed away.  Barmore and others are working together to start "Friends of Jack Kerouac," a non-profit organization with a goal to raise money for the restoration of Kerouac's home.  They hope to someday soon restore the house to its former state and possibly open it up for the public.
With this goal in mind, they hold concerts at a St. Petersburg bar, the Flamingo, where Kerouac was a frequent patron.  The bar is an unassuming local joint and, apart from some technological upgrades, a couple flat-screen TVs and some Kerouac memorabilia, not much has changed since Kerouac stepped inside. It is often referred to as the bar where Kerouac had his last drink on October 21st, 1969.  Of course, this cannot be verified, but it's a romantic notion for the Kerouac fans that stop in the Flamingo for "a shot and a wash" – a Kerouac special that gets you a shot of whiskey and a beer to chase it with.
The Friends of Kerouac also sell t-shirts at the Flamingo to raise money for their cause.  The shirts feature Kerouac's visage on one side and a passage from On the Road on the other.
Although, at the present time, Kerouac's St. Petersburg residence is rundown, its mailbox remains a popular destination for fans, who still send mail to the long-deceased writer.  One letter thanks Kerouac for inspiration, stating "Your work is why I write," while another hand-delivered message is a bit more vague.  "Hey Jack, We came by to say hello. Sorry we missed you."
If the Friends of Jack Kerouac are successful, the doors to the author's abode may be open once more.