Happy Halloween From Literary Traveler!
October 31, 2012 in American Authors, American History, Bookstores, Classic Literature, Dark New England, Edgar Allen Poe, Famous Museums, Halloween, History, Holidays Literary Traveler, Horror, Horror Writers, Massachusetts Travel, New England Travel, Psychology, Short Stories, Stephen King, Vampires in Literature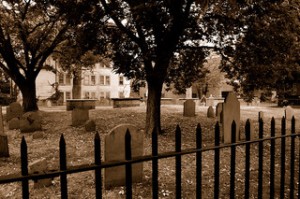 Literary Traveler has been very excited about Halloween…and it's finally here! To celebrate, we'd like to show off all the work we did in advance of the spookiest day of the year. All Treats.
Halloween Reflections – "Halloween is a time when the veil between the dead and the living was at its thinnest."
Mercy Brown: American Vampire – "Like the vampire, tuberculosis visited ordinary communities seemingly at random – preying upon family members, slowly robbing them of their life and turning them into fevered ghostly individuals with a persistent bloody cough."
The House of the Seven Gables – "If Hawthorne's The House of the Seven Gables house was once haunted by the uneasy ghosts of family (his ancestors were involved in the Salem witch trials), the resident ghost today seems to have the philanthropic and busy spirit of Miss Emmerton."
The Hawthorne Hotel – "Despite general manager Judi Lederhaus' assertions, hundreds of tourists stream into the stately lodgings ready to embark on a supernatural safari."
The Psychology of Salem – "The most dangerous element of the teenage mind is the inability to grasp the concept of linear thinking. Some teenagers cannot see beyond immediate gratification.  This makes decision making tricky."
Master of Creep: Edgar Allen Poe – "Poe created complete universes in which the reader starts to believe the narrator."
The Salem Witch Trials – "In 1692, fear spread through Salem, Massachusetts like contagion, infecting the minds of the mainstream, and claiming the lives of those among the periphery."
Literary Traveler Goes to Salem – "I mosey by a zombie playing the saxophone for a couple of onlookers and I am officially sold on the city of Salem."